Our crowd-
fund is complete
!
We raised over 200% of our target!
At Kroo, the financial well-being of our customers is at the heart of everything we do. That's why we offered them the opportunity to purchase Kroo shares through equity crowdfunding.
The shares offered through crowdfunding were at the same price as private investors who had already invested £14.5m in the B+ round.
Shares were limited and available on a first-come, first-served basis.
Why did people invest in Kroo?
Investing in Kroo means investing in a bank passionate about technology, customer-obsessed, gives back to the planet and aims to deliver profits fast.
With 145,000 opened accounts and £765 million in current account deposits, Kroo is one of the 10 fastest-growing fintechs in Europe, according to Sifted.
Kroo highlights.
Since launch 145k accounts opened and £765m in deposits
Kroo is rated excellent on Trustpilot
Goal to plant 1m trees by the end of 2024
Top 10 fastest growing Fintechs in Europe according to Sifted
Employee numbers doubled over the past 12 months to 245
£72m raised to date including £14.5m in this round from private investors
Since launch an average acquisition cost of £38
Overdrafts and personal loans available to eligible current account customers.
Who you invest in matters.
We're on a mission to be the first UK bank customers truly trust and love. We care about what you care about; your financial well-being is at the heart of everything we do.
From our high-interest earning current account that pays 4.35% AER/4.27% Gross (variable) on balances up to £500,000 and our excellent in-app customer experience to our commitment to plant 1 million trees by the end of 2024, Kroo wants to make banking better for you and the planet we share. And we're just getting started; there is so much more we want to do. That is why who you invest in really matters.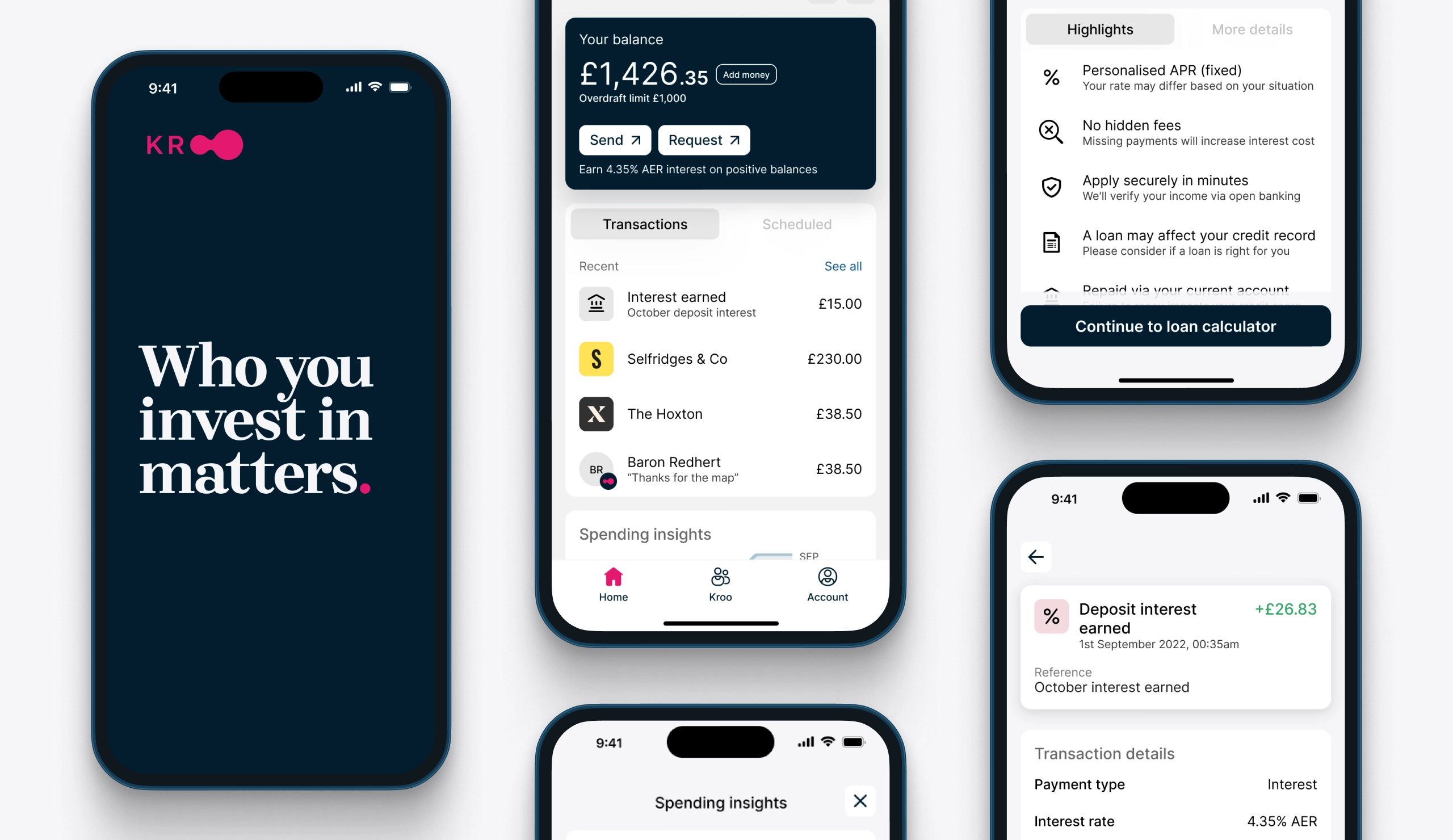 Why invest?
The UK retail banking market is big, including 97 million current accounts, £1.9 trillion in deposits (circa £250bn in non-interest bearing) and £149bn in personal loans.
Kroo's business model drives revenue from transaction fees and the net interest margin on deposits and loans while acquiring customers at a low cost. That's why we aim to deliver profits faster than any new UK bank with a current account.
Look out for more opportunities to invest in the future, and together, let's change the landscape of UK banking forever.